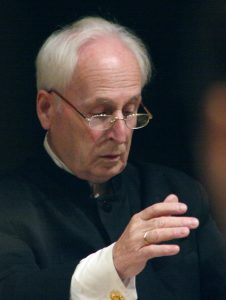 Shavleg Shilakadze (b.21.02.1940,Tbilisi), Georgian composer and conductor, Professor, Artistic director of the Chamber orchestra "Concertino Tbilissi".
He graduated from Tbilisi Conservatoire's Viola (Prof. A. Begalishvili, Prof. L. Iashvili) and Composition (Prof. O. Taktakishvili). He also studied at Opera-Symphony
Conducting faculty (Prof. O. Dimitriadi) and Graduated Leningrad (Sankt-Petersburg) N. Rimsky-Korsakov Conservatoire (Prof. N.S.Rabinovich, Prof. A.S. Dmitriev).
In 1959-1969  he  played viola in the Georgian State Symphony and Chamber Orchestras.  He made his debut as composer  in  1959,  and as a conductor in 1967.
1969-1984 he worked at Tbilisi Music College.  (Student orchestra, Chamber music, Study of  musical  instruments)  and  1984-2014  at  the  Tbilisi Conservatoire
(Opera  singing  department,  Student  Symphony  orchestra,  Conducting,  Study  of  musical  instruments,  Instrumentation),  1973-74  he  headed  the  Georgian
Philharmonic Chamber orchestra, 1976-77 he worked as head of the Chamber Music Department of Georgian State Philharmonic Society.
In  1976  he founded  chamber  ensemble  "Camerata Tbilissi"  which  he  headed until 1985. Together with this ensemble he has given about  300  concerts both  in Georgia  and in  the major halls of cultural
centers of the former USSR.
In 1988 he founded Chamber orchestra  "Concertino Tbilissi",  which he heads to this day. Together with  Concertino Tbilissi  he has given numerous concerts both in Georgia and abroad – in Germany,  Spain,
Switzerland and in Great Britain.
In 1999-2002  he was invited as a resident conductor to the Cairo Art Academy Symphony Orchestra. This orchestra under Sh. Shilakadze's  baton gave concerts in Cairo and Alexandria, five concerts in Spain,
at Murcia International Festival of Young Orchestras, successfully collaborated with the Cairo Chamber orchestra "Amadeus".
Mr. Shilakadze's conducting Repertoire includes numerous pieces of chamber, symphonic, cantata-oratorical, orchestra-instrumental and opera music, works of world classical music (XVII-XXI sent.) as well as
works by Georgian composers.
Main compositions by Shavleg Shilakadze: 5 Symphonies  (N3 "Epitaph" for 16 Strings, N5 "Psalms") 5 Cantatas,  oratorio  "penitential Hymns"  after David  the Builder,  Concerto for Orchestra, 10 instrumental
concertos, 4 string quartets, chamber and vocal music, music for choir etc.
Shavleg  Shilakadze  has been a member of Georgian Composers' Union since 1973.  He received an Order of Honor in 2000;  he's a laureate of  National Prize (2012).  Mr. Shilakadze  has received  a  number  of
international arts scholarships in Germany and Switzerland (2004-2005, 2007, 2009, 2010, 2011, 2012, 2015, 2016, 2017).